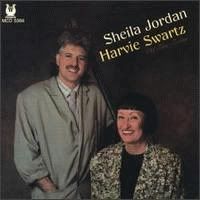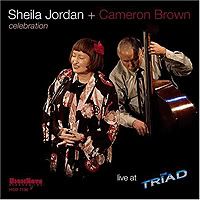 This week I've been listening to vocalist
Sheila Jordan
and her recordings where she's accompanied by bass only.
Jordan is a singer who was 'so in love with Charlie Parker that she married
his piano player
', which is her description of the relationship. The marriage ended, and Jordan spent the next 20 years on heroin and working for an ad agency in NY. Today, she sings like someone who's been there and back, the swing in her phrasing so autonomic that her songs are often an experience that you can't imagine ending.
Back in the 1980s, Jordan first recorded a series of albums for Muse Records that featured her vocals accompanied by bass. Her bassist at the time, Harvey Swartz, commented in an interview that the combination of bass and vocals drove audiences wild. It's a setting that showcases both musicians.
In 2004, Jordan recorded
Celebration: Live At The Triad
with bassist Cameron Brown. Released on the High Note label, the set is loose and joyous –
improvisatory
but not ad hoc. Check out the Amazon.com reviews, in particular the one by John Vasile ("searcher" from Nashville), who explains Jordan's accomplishment in the album by describing her tribute to
Oscar Brown, Jr.
:
"Sheila has been performing Brown's songs for decades, which we're reminded of at the top of the set with a snappy take of "Hum Drum Blues," but she pulls all the threads together here and allows us to see the whole picture, one we've been glimpsing bits of over the years. And we realize simultaneously what a wonderful composer Brown is and what a gift Sheila has for keeping jazz vital."
In addition to
"Hum Drum Blues"
, Vasile is also referring to Jordan's rendition of Brown's
"All Blues"
– a song about Miles Davis, in which Jordan manages to re-cap the bebop era.
Having said all that, also see the
Village Voice review
from February 17, 2006 by Tom Hull.
-
3Dsound