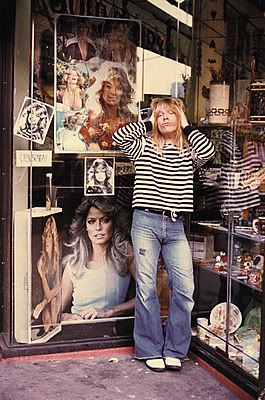 Larry Norman website
Larry Norman invented Christian rock. He's currently not well, but he still gives occasional concerts.
A copy of his provocateur album cover – the one with
him wearing snakeskin boots and standing next to an apple
– is nowhere to be found on his website, which is a loss (but an opportunity for a cultural anthropologist to shepard a digital copy into the world). Here's what the
Larry Norman website
says about the infamous cover:
"So Long Ago The Garden has been rebalanced, re-equalized and remastered. The cover artwork has been re-scanned and the back cover is a slightly different version from the "snakeskin boots" photo used before. At the time of its release, it caused quite a stir in the gospel community. They said that Larry was naked and that this was proof he had fallen away from God. Also, there was a lightning bolt through his name, and, after all, lightning was a sign of Satan and of devil worshippers, wasn't it??? Well everybody knows it's true. Everytime there's a thunderstorm and you see lightning, well, that's not a display of God's power through nature ... it's the devil. So run and hide and cry out, "The sky is falling," "The sky is falling." ¶ He was mercilessly attacked in the Christian press, his concerts were cancelled and he didn't get a single concert until a year and half later when Noel Paul Stookey invited him to perform in concert as his opening act. During his absence from the stage he worked on plans to start Solid Rock Records and produce other artists who also had "no commercial value." Some of the people he felt led to help were on drugs so he spent time helping them with their personal life and bringing them to a converted lifestyle. In the end, Keith Green and Larry could not work together so Larry let him go. Randy became the next artist in line and Larry produced a top rate album for him. ¶ During this time, Larry had also started a Bible Study in his living room. It had no name and was only for musicians and actors. But after six months, "The Vineyard" was chosen as a name and although there was plenty of proof that Larry had NOT walked away from God, he kept on experiencing "blackballing" by the Christians. Bible bookstores refused to carry most of his albums if not all of them, especially in the South and Midwest. ¶ If Garden caused him a lot of trouble with the Christians, it also brought him a lot of respect and acceptance from less judgmental people. U2 was in the process of starting a band, Dylan heard both Planet and Garden and coincidentally started going to The Vineyard for morning Bible study. And Tower Records couldn't keep either album in stock. It received rave critical reviews from the secular press ... all the more proof to Christians that Larry was doing the work of Satan."
Don't you wish you could see for yourself what caused the fuss? (Trust me, it's nothing.) In the years since then, Christians have rehabilitated their opinion of Norman and have graciously acknowledged his achievment in furthering gospel music by presenting him with various life-time
achievement
awards.
-
3Dsound