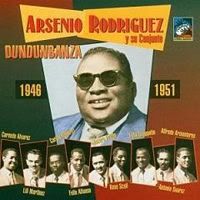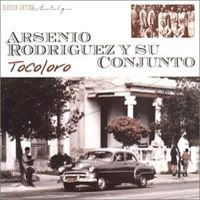 Almost ten years ago, the post-punk and experimental guitarist Marc Ribot released
his first album with the Cubanos Postizos
and showcased the music of Cuban composer, band leader, and
tres
player Arsenio Rodríguez. The Ribot album is crazy sounding – but it sounds like nothing else, and it suceedes as an honestly inauthentic tribute to Arsenio Rodríguez. It also succeedes in introducing Rodríguez's music to a wider audience, including myself. Rodríguez today turns up in my Media Player far more frequently than Ribot does, which is a reflection of the originality in what Rodríguez did.
Rodríguez (1911-1970) was a Cuban musician who reached a creative height when leading his Conjunto in the 1940s. Much about the Conjunto broke the conventions for dance bands at the time. Rodríguez's innovations revolved around instumentation and the popularization of African rhythms and song structures, along with the added benefit of presenting Rodríguez's original compostions.
For example, take
Pueblo Nuevo Se Paso
from the
Dundunbanza CD
. The tune was a hit around 1950 and what you hear are three trumpets cutting the outlines of a melody that's carried by a piano, with two vocalists who declaim a lyric above the playing. Conga provides a steady but surprisingly improvisory pulse, supported by a rhythm section of bass and guitars. The effect is celebratory and big-band dancable but simultaneously acoustic and intimate. In other tunes, Rodríguez's tres is more prominent, often establishing both the melodic and rhythmic lines, before sliding into nearly unison playing with the piano, which underscores the percussive role of both instruments in the Conjunto's sound.
All of the tunes feature vocals. In
Esa China Tiene Coimbre
from the
Tocoloro CD
(actually, can you hear the inevitability of the rhythm in the title? ess - AH chean - AH tea - en - AH CO - im - BRAY; when you say it out loud, it feels good, doesn't it?)
, a vocal chorus introduces the lyric and ends up repeating the title phrase, while a soloist extemporizes on top, in a strong, emotive tenor. In other tunes, the effect is even more pronounced, especially in
Dundunbanza
and
Ta Benito Eh
, both on the
Dundunbanza CD,
and both indebted to Rodríguez's African heritage from the Congo. Part of Rodríguez's achievment lies in taking the Congolese songs and rhythms passed down to him by family members and popularizing them into a contemporary dance music.
Here in Colorado, we're lucky to have a brilliant jazz radio station –
KUVO
– which streams on the internet. KUVO plays a wide variety of music, including latin jazz. I e-mailed the Music Director, Arturo Gomez, and asked him about Rodríguez. He responded:
"Arsenio created the conjunto, the standard ensemble for playing Arfro Cuban dance music aka salsa. before Arsenio it was either a big band or a septet, In 1940 Arsenio took the septet-the format he began his career in and expanded, he added a piano, tumbadora (conga) and first 2 trumpets, then 3 trumpets to expand the previously standard group. he also began writing riffs for the horn section-the first step in the evolution of the mambo, he also incorporated piano and Cuban tres guitar solos. Over the years his conjuntos included the best sidemen and soneros-improvising singers of Cuban music, he was a gifted composer as well, 30 to 40 of his composotions have been recorded and performed numerous times by groups of Cuba, NY, Puerto Rico etc His songs reflect the struggles of black people in Cuba, patriotism, African influences, and many other every day topics. In the late 40s he was on top of the popularity charts in Cuba's radio and dance halls. In 1950 in order to save his brother's life he moved to NY leaving it all behind to start anew. His presence in NY changed forever the way music was played there."

"His 40s and early 50s recordings are like listening to Louis Armstrong's Hot 5s and 7s in the 20s, revolutionary......"
To hear latin music, point your browser to KUVO's weekly program
Salsa Con Jazz
, which airs on Sundays between 4-6 pm MT and is hosted by the encyclopedically knowledgable Jimmy Trujillo.